If you are looking for the ideal place to locate your new business investment and you're searching for somewhere with a strategic position and excellent transport and digital connections;
if your business requires highly qualified personnel and could benefit from being close to world-class research centres;
if you have a new business idea to invest in but require some support and public incentives to develop it;
if you would prefer to locate your business in a beautiful part of Italy, with a mild climate all year long, where it's a pleasure to live as well as work, you've found it!


Invest in Apulia!


Ten good reasons for investing in Apulia:
1. It is an authentic and innovative region
Apulia is a welcoming, creative, sustainable and dynamic land, with an ever-increasing international standing. It is a region that has managed to maintain its traditions and authenticity, whilst becoming at the same time technological and innovative, where the local government pays a lot of attention to citizen participation and environmental policies.
Apulia offers an incredible mix of ancient crafts, modern manufacturing industries, authentic Italian style and unrivalled quality, with an inborn inclination towards technological innovation, green and blue economies and creative industries.
In this region, the focus on boosting competitiveness keeps in step with the challenges of harnessing the fourth industrial revolution and becoming a year-long tourist destination, whilst guaranteeing one of the best welfare systems in Italy. In Apulia, the aim is to create the conditions for "a long happy life" for all, with no exclusions.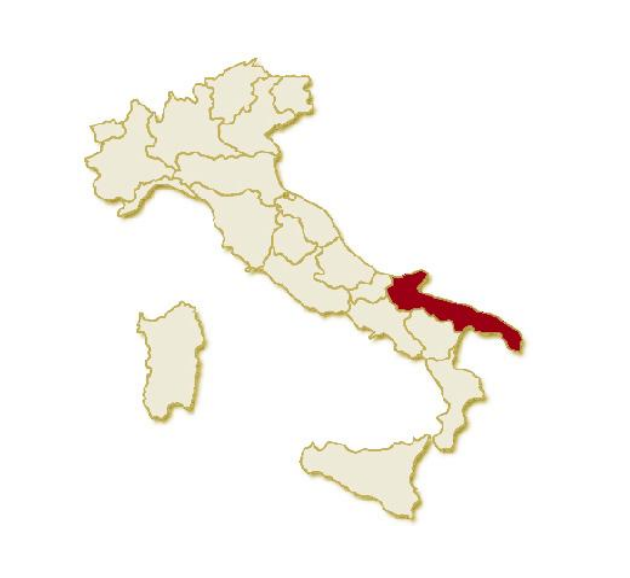 HIGHLIGHTS
Population: 4,063,888 (source: Istat, 2017)
Population 208 inhabitants/sq. km
GDP per capita: 16,512 Euros (source: Istat 2016)
An active company for every 12 inhabitants (source: Movimprese)
Export turnover in 2017: 8.26 billion Euros
Growth rate of foreign tourist inflows: +7,2% in 2017
Strategic business sectors


Knowledge and innovation economy
Aerospace
80 large and small companies.
6,000 researchers and employees.
An export turnover of 619 million Euros in 2017, accounting for 11.5% of national industry exports, compared with 7.4% in 2008.
The only Italian region with a fully integrated production chain.
Leader in the production of carbon fibre composite materials and intelligent systems for the mechanical, aviation and aerospace sectors.
A dedicated RPA (remotely piloted aircraft) airport "Test Bed'', also destined to become the first spaceport in Italy for orbital space flights.

Green Economy
22,070 companies have invested in green products and technologie.
Italy's leading region for the production of energy from renewable sources: wind and solar.
49.7% of total energy consumed in the region is produced from renewable sources (Source: Istat, 2016).
Mechanics and Mechatronics
7,494 companies and 49,164 workers.
An export turnover of over 1.95 billion Euros in 2017 (excluding aerospace), accounting for 23,5% of overall regional exports.
Leader in the automotive industry, in the production of diagnostic technologies for rail networks, in the creation of automated production lines and in the biomedical sector.
Biotech
226 companies (including several MNEs) active in the chemical-pharmaceutical sector, with 1.654 workers.
An export turnover of over approximately 1.6 billion Euros in 2017 medicines and pharmaceuticals, accounting for 19.5% of overall regional exports.
Leader in advanced diagnostics, new materials development, personalised medicines and therapies.
ICT
343 companies and 1,804 workers.
Exports for a total of 149 million Euros in 2017.
Main specialisations: software and business solutions for human resource management, public administration, diagnostics, logistics.
Economy of quality and Made in Italy

Food and drinks Sector
83,634 companies and 249,990 workers.
An export turnover of 1.7 billion Euros in 2017, accounting for over 20.6% of total regional exports.
Leader in Italy for the production of wine, extra virgin olive oil, durum wheat, table grapes, tomatoes, almonds, olives, artichokes and cherries, organic fruit and vegetables. A wide range of certified traditional products.
Fashion
4.309 companies and 38.825 workers.
An export turnover of 731.8 million Euros in 2017 (+4,4% compared with 2016).
Haute couture and men's/women's/children's clothing, combined with technological innovation.
Leader in the design and manufacture of wedding dresses and special occasion wear.
A number of business clusters throughout the region, specialised in footwear manufacturing, including a significant presence of producers of work and safety footwear.
Furniture and furnishings Sector
3,060 companies and 18,458 workers.
An export turnover of 360 million Euros in 2017.
Leading international brands based in Pugli.
World leader in the production of leather upholstered furniture, with a growing attention to design and home automation.
2. It is in a strategic geographic location, with modern infrastructures
3. It has a young, skilled and reliable workforce
4. It offers efficient incentives which make for competitive operational costs
5. It has various well served locations for business investments
6. It boasts an innovation ecosystem which supports local industry
7. It has an excellent welfare system
8. It has stable and reliable institutions
9. It is a great destination for tourism and culture, 365 days a year
A great many Italian MNE's and international groups from different parts of the world, such as Germany, France, Holland, India, Canada and the USA have already chosen to locate in Apulia, including: Leonardo, Bosch, Getrag, General Electric, BC Jindal, Magneti Marelli Fiat Powertrain, Sanofi, Merck Serono.
To guide companies through the investment process, we have set up a dedicated "Invest in Apulia" help-desk at our head offices in Modugna (BA).
The help-desk provides information on opportunities and regional incentives for investments in Apulia. We can also help identify the best locations for setting up new business investments, by matching the characteristics of the investment plan with what the local industrial zones have to offer.